[ad_1]

KOLKATA: The overcast skies and drizzle did not dampen the spirits. Nor did the absence of public transport prove a hurdle. In fact, mall operators said they were pleasantly surprised by the high turnout as people braved challenging conditions to shop and eat out during the first weekend after the facilities reopened following the restrictions were eased on Tuesday.
"The footfall recorded this weekend was double that we had clocked in the first weekend last year (June 12-14, 2020). People are not only stepping in to purchase essentials, they are also checking out stuff and making impulse purchases that we didn't see last year. On Sunday, Father's Day, many came in with their parents for a treat," said South City Mall vice-president Manmohan Bagree.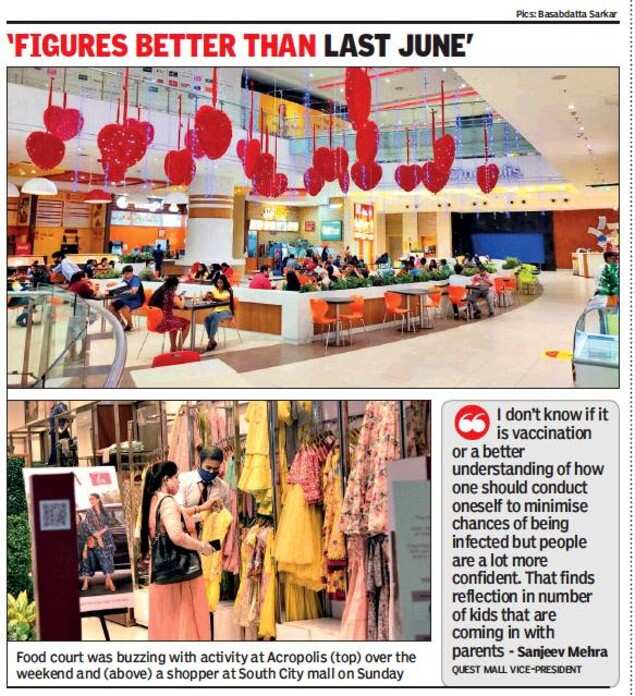 At Quest, which had clocked very low footfalls for nearly a month after reopening post lockdown last June, the numbers have been pretty impressive this time round. "I don't know if it is vaccination or a better understanding of how one should conduct oneself to minimise chances of being infected but people are a lot more confident. That finds reflection in the number of children that are coming in with parents, something that we did not witness last year. People are also behaving responsibly and don't require to be told to wear masks or maintain distance," Quest mall vice-president Sanjeev Mehra pointed out.
While very few walked into the malls on Thursday after the heavy overnight showers that left many roads in the city waterlogged, the footfall bounced back on Friday. At City Centre, Friday was better than Saturday. And though the turnout on Sunday was higher, Ambuja Neotia group director Ramesh Pandey said the absence of public transport had been felt during the weekend. "Still, Friday and Saturday recorded a 100% increase in sales over Tuesday and three-times as much as we had clocked in the first weekend post opening last year," he said.
At Acropolis mall, it was the food and beverage section that was buzzing over the weekend. With seating restricted to 50% of capacity, there was a 30-45 minutes wait-time for customers to get a table in the afternoon. "The food court and fine dining restaurants witnessed more footfall than apparel and other stores. It is the F&B section that led to the mall clocking the second-highest footfall over the weekend," said Acropolis mall general manager K Vijayan.
With no public transport on the roads, the parking lot at the malls was busy. At South City that recorded the highest turnout this weekend, the car to footfall ratio was 1:10 against the pre-pandemic ratio of nearly 1:50.


[ad_2]