[ad_1]

KOLKATA: After health workers, IT and ITeS professionals who are asked to show their identity cards at checkpoints, cops are asking the workers of
retail
stores to carry a photocopy of the
trade licence
and an authorisation from the store owners. The retail stores have been allowed to operate from 12 to 3pm.
On Thursday, some retail store workers complained that they had been detained multiple times at checkpoints and questioned why they had ventured out during the restrictions. The problem, they said, could have been solved, had the police issued e-passes to them.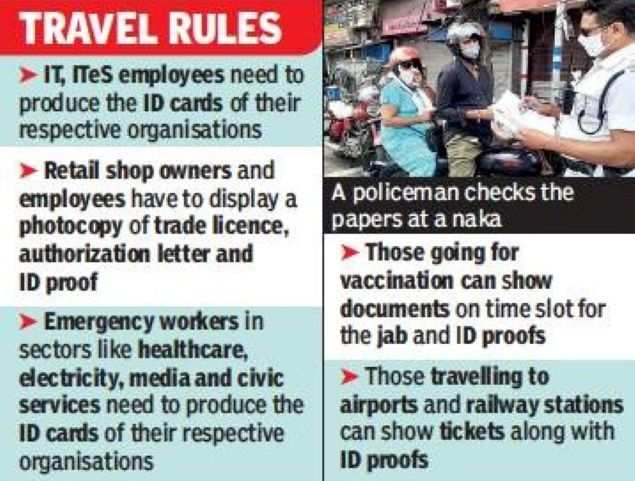 The problem was highlighted on the Kolkata Police social media handles. "Please clarify if retail store owners and their workers, who are allowed to operate between 12pm to 3pm, will require vehicle e-pass to commute in their personal vehicles. This is because public transport is almost nil," tweeted Nagendra Pagaria.
Another shop owner, Sitangshu Kumar, highlighted the technical glitches faced while trying to apply for e-pass. While documents have to be uploaded to justify the need for a pass, the photograph has to be less than 100kb size, a difficult proposition since basic phone cameras take photographs of higher resolution.
Till now, cops have issued very few e-passes. Cops in Lalbazar said that the retail owners need to produce some proof of ownership like trade licence. The workers can carry a declaration from the owner concerned along with the photocopy of the trade licence. "If the workers carry a reliable proof that they are employed in retail shops, we will allow them to commute for the first few days," said a senior officer at Lalbazar.
Those working in restaurants will also have to produce proof similarly when they are allowed to operate for three hours in the evening. "Those working in restaurants might not always be able to reach home by 9pm when the strict restrictions are in place. It is important that they carry relevant documents," said the officer.


[ad_2]