[ad_1]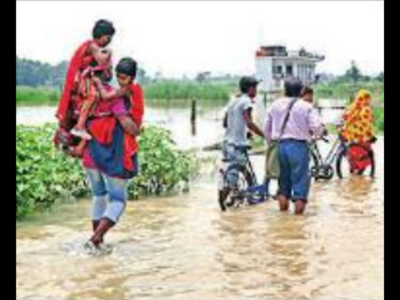 Heavy rain leaves Lalghata in Birbhum flooded on Sunday.
MIDNAPORE/HOWRAH/BURDWAN: Heavy rain in several parts of South Bengal continued for the fourth consecutive day amid apprehensions of a flood situation, as DVC continued to release water.
A young couple was killed by lightning at Jagardanga in West Midnapore's Goaltore area on Saturday afternoon. Sukumar Murmu (28) and his wife Yashoda Murmu (23) were working in a field when it started raining. They took shelter under a tree and were struck by lightning. The couple left behind a 3-year-old son.
In Hooghly, DVC water submerged some parts of Pursurah and Khanakul. Villagers in Hooghly were worried that increased release of water would destroy their crops.
The Shilabati river has completely inundated Ghatal municipality. Shops and ground-floor houses are under water and boats are being used to ply the waist-deep water on roads. Locals raised concerns that all the goods inside shops would be damaged. They said this was a problem they faced every year but no permanent solution had been provided. Ghatal MP Dev had submitted a master plan to prevent flooding in the basin, but it was not cleared by the Centre.
In Udaynarayanpur of Howrah, several villages were flooded as DVC water entered through breaches in embankments. The irrigation department is trying to repair these. Three wooden bridges have been damaged. There were weddings in the area on Saturday and invitees had to be brought in on boats.
Locals demanded a permanent bridge be built because accessing the hospital had now become extremely difficult. Amta MLA Sukanta Pal said that work on a permanent bridge would start soon. The water levels of the Rupanarayan and Mundaswari rivers rose, badly hitting villages in Bhatora, Kulia and Mirgram areas.
People in West Burdwan and East Burdwan are living in fear as there are apprehensions that the DVC will release more water soon. The areas are already expecting high tide on June 26. The state government has started taking steps to ensure that the rivers do not overflow.
East Burdwan DM Priyanka Singla visited areas of Mangolkot and Ausgram II where erosion was spotted and held meetings with irrigation department officials. Restoration work on a 40-ft breach in Mangolkot started on Sunday.
The body of Manoj Kumar Das of Kulti, who had been swept away by the river near Ramnagar bridge on Friday, was found in West Burdwan.
An old water tank collapsed at Dangal in Andal on Sunday evening. This has created a water crisis as the tank held 2.2 lakh gallons. An adjoining water filter plant was also damaged in the collapse. Locals claimed some areas had caved in because coal pits had not been properly filled with sand.
FacebookTwitterLinkedinEMail


[ad_2]