[ad_1]

KOLKATA: Two health experts roped in by the state government to decide on the fate of board examinations hinted they favoured a deferral for now. The first round of meeting among the six members of the expert committee took place on Wednesday, hours after it being formed.
Pointing out that physical exams could be risky for the candidates, gastroenterologist G K Dhali cited numbers at the meeting. He said while the number of children affected by the novel coronavirus in the first wave across India was 14,000, the figure in the second wave, from February till May 25, was 21,000.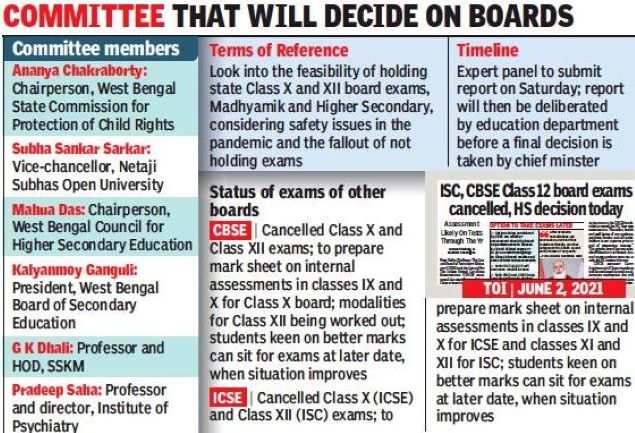 "We are trying to figure out the pros and cons of holding the examinations during a pandemic. Children are not vaccinated and moreover, we are seeing the rate of infection among children rising in this second wave. Though the number of cases has come down appreciably, I feel we should observe the situation for some more time," said Dhali, who heads the School of Digestive & Liver Diseases at SSKM Hospital.
Educationists voiced their concern that since the board examinations were career-shaping milestones for students, not holding the tests could be detrimental to them. But health experts felt that even if the examinations were not called off, it could be deferred.
"Safety of the children is much more important for now," said Dhali.
The committee had a second round of brainstorming on Thursday, as the team has been asked to submit its reports by Saturday. "I would try to give my input on whether children would be mentally prepared to go to examination centres or not. The psychological aspects of candidates, their parents and teachers have to be taken into consideration. I personally feel this is the right time to change the mind set of paying so much priority to marks," said Pradip Saha, director of Institute of Psychiatry at IPMGER.
In addition to students, many teachers who will be working as invigilators are yet to be vaccinated.
Paediatrician Apurba Ghosh, director of Institute of Child Health Kolkata, said physical examinations during the pandemic might not be advisable. Ghosh is not part of the committee. "We could look for alternative options, like online examination. Though 12% of the entire novel coronavirus-infected population is children and young adults up to 20 years of age and also only 3% of the total deaths is among this age group, losing even one is a huge loss. At the same time, the youngsters should not be subjected to losing an academic year or be kept under uncertainty," said Ghosh.


[ad_2]